Colormetrics Vion, 39.6 cm (15,6''), resistive, SSD, black, fanless
Přidat do oblíbených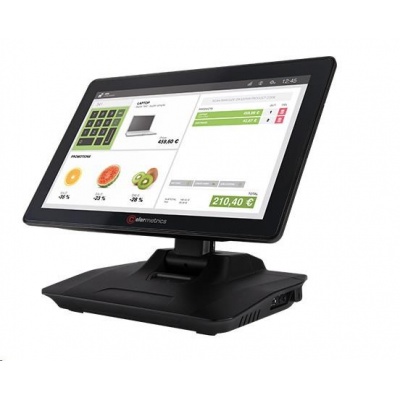 Popis
Parametry
Hlídací pes
POS System, Touchscreen, resistive, 39.6 cm (15.6''), Intel Celeron Quad Core, fanless, 2.0 GHz, RAM: 4 GB, SSD: 128 GB, USB (5x), RS-232 (4x), Ethernet (10/100/1000 Mbit), PS/2, RJ11, VGA, incl.: power supply unit, power cable (EU), order separately: operating system, colour: black
Colormetrics Vion – the name stands for a giant step towards a new generation in point-of-sale. The system is the result of long-term, comprehensive market analysis and represents the melding together of user-oriented requests and technological possibilities – at a highly attractive price tag. The extremely appealing design, the flawless construction with great attention to detail, as well as the outstanding characteristics make the Vion a real all-rounder in all areas of usage: everywhere where quality, design and stability count.

The original: the innovative stand. Thanks to a user-friendly conception it is tiltable at two simultaneous points. This makes the Vion infinitely height-adjustable and ensures not only for operation in the classical vertical position, but also in a horizontal monitor position. This feature is highly practical for users, since it manages counter applications with a single movement either when sitting or standing. When arranged completely horizontally, the all-in-one system stands a mere 15 cm high and fits anywhere where traditional POS systems are simply too large.
Although the elegantly shaped housing comes across lightweight and delicate, don't be fooled: the Vion's fully wrapped aluminium cast housing not only withstands hectic touch input, but even when shaken, the perfectly balanced system does not budge an inch.
The central operating element is the 15.6'' widescreen touch display, available with proven touch technologies (resistive or capacitive). With a resolution of 1,366 x 768 pixels and an LED background lighting of 220 nits, the picture always remains sharp. This goes easy on the eyes, yet ensures for good readability, even in bright environments.
The powerful embedded 2 GHz Intel quad-core processor offers high performance (even for complex applications) and remains reliable, also during hectic phases. In case the system should happen to come close to its limit, expand the integrated 4 GB DDR3 RAM to up to 8 GB. The standard integrated 128 GB SSD, optional HDD, offers plenty of memory for most POS applications and data. Exchanging RAM and the hard drive is just as easy as it is practical: upon the removal of just three screws you have access to both modules and are able to comfortably expand the all-in-one system on-site.
The interface versatility offers connectivity options for all common POS applications. For peripheral devices you have four serial ports available (2 x RS-232, 2 x RJ45 incl. adapter), as well as three USB 2.0 ports and one USB 3.0 port, one each PS/2, one LAN port with a Gigabit Ethernet connection, a cash drawer port and a VGA output. The audio and microphone ports located on the side of the system provide more flexibility, as well as an additional USB port.
.
Ovládání pokladny:
Dotyková obrazovka
Aktuální cena produktu je
28513
Kč  s dph