Colormetrics P3100, 43.2 cm (17''), Projected Capacitive, SSD, black, fanless
Přidat do oblíbených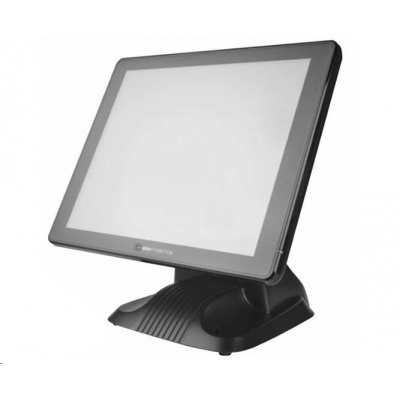 Popis
Parametry
Hlídací pes
POS System, Touchscreen, Projected Capacitive, 43.2 cm (17''), 1280x1024 pixels, Intel Celeron Quad Core, fanless, 2.0 GHz, RAM: 4 GB, SSD: 128 GB, USB (4x), powered-USB (1x), RS-232 (4x), Ethernet (10/100/1000 Mbit), RJ11, audio, VGA, eSATA, incl.: power supply unit, power cable (EU), order separately: operating system, colour: black
Introducing a POS system which masters the day-to-day with flying colors – the Colormetrics P3100 all-in-one system. Equipped with an IP64-protected front panel, it easily withstands daily challenges such as dust, liquids and dirt. Thus, the complete system is particularly suited for usage in hospitality, where hardware must be able to endure a lot. The large 17" display offers you maximum space with its zero-bezel surface; additionally its slim aluminium housing makes it a real modern eye-catcher at the POS. Thanks to a large number of the most varying peripherals the POS system is an attractive and indispensible helper.

Within the panel lies the complete hardware. According to your needs mount the P3100 with a VESA bracket to the wall or a swiveling mount. And just like that you have an even more clearly arranged POS area, ideal for more efficient working.
With its screen size of 17" (43.2 cm) the display offers a maximum resolution of 1,280 x 1,024 pixels. It also features a brightness of 250 (or optional 350 cd/m2) and displays up to 16.7 million colors. In addition to the standard integrated resistive touch screen it is also available upon request as a touch panel with projected capacitive technology. The Intel Celeron J1900 Quad Core processor with 2 GHz provides more than enough power for complex processes.
It comes standard with 4 GB DDR3 memory, which you many optionally expand up to 8 GB, for the usage of more complicated applications. Choose between the HDD hard drive with 320 GB and an even faster SSD memory with up to 120 GB. You have simple and easy access, if needed, to exchange the memory, for example.


Integrate the Colormetrics P3100 system easily into existing hardware environments, thanks to its numerous ports. Among others the system comes standard with 4 USB interfaces (3x USB 2.0, 1x USB 3.0), a LAN port for direct network connection, as well as a VGA interface for connecting a second monitor. Additionally, the POS system features a serial RJ45 port and 3 serial COM ports for additional peripherals. As needed, you also receive the system with a parallel interface.
.
Ovládání pokladny:
Dotyková obrazovka
Aktuální cena produktu je
39784
Kč  s dph